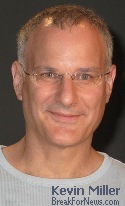 Emmy award-winning filmmaker,
Kevin Miller
is wading into the battle to preserve health choices with a new movie '
We Become Silent

: The End of Health Freedom
'. It details the ongoing attempts orchestrated by international pharmaceutical interests to limit complimentary herbs, vitamins and therapies.
A previous early 1990's movie by Miller, '
Let Truth Be The Bias
', narrated by James Earl Jones, successfully mobilized public support behind the DHSEA legislation which defended U.S. consumers' rights to health alternatives. The hard-hitting film exposed the government's role in suppressing the truth about the effectiveness of complementary medicine.
Health activists hope his new movie will similarly energise public sentiment about the use of CODEX and supplements legislation to circumvent free health choices by consumers worldwide. The film is now in final editing, with a short version scheduled for release in early June, 2005 and the full film soon after.
Miller told
BreakForNews.com
that the film's title '
We Become Silent
' was inspired by the words of Martin Luther King -who famously said: "Our lives begin to end the day
we become silent
about things that matter."
Meanwhile, following a legal case by the UK-based
Alliance for Natural Health
, a European Court of Justice ruling is now only a few weeks away on whether the EU Food Supplements Directive may be
invalid under EU law
. But a raft of other legislation and guidelines in the pipeline by way of the EU Food Supplements Directive and global Codex Guidelines on Vitamin and Mineral Food Supplements are part of a bigger plan to regulate natural health.
Audio Interview with Kevin Miller
by Fintan Dunne BreakForNews.com
Listen on streaming mp3:
DSL audio
or
56k audio