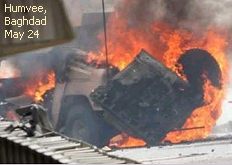 Three more U.S. soldiers were killed Tuesday in central Baghdad when a car bomb exploded next to their convoy at about 1:30 p.m., according to the U.S. military.
About a half-hour later, a U.S. soldier sitting in the back of a Bradley fighting vehicle at an observation post was shot to death by gunmen in a passing car.
In the last two days, the military announced that 13 American troops have been killed since Sunday.
Those reports came as insurgents carried out a string of explosions, suicide attacks and drive-by shootings around the country that also killed 49 Iraqis. At least 620 people, including 57 U.S. troops, have been killed since April 28, when Prime Minister Ibrahim al-Jaafari announced his new Shiite-dominated government.